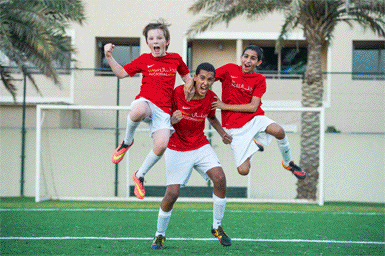 Football Academy
Regional Sports Academy has established itself as one of the leading academies in Abu Dhabi and Dubai with 16 squads of various abilities, players from over 55 nationalities, both male and female from a variety of different backgrounds. Our UEFA & FA qualified coaches ensure that players are getting quality football coaching and as well as mental and social learning outcomes through a structured football syllabus. All our academy players have the opportunity to compete in local leagues, play in tournaments and experience football international tours. Our philosophy ensures continuity and consistent development plans for our players who stay with us.
Philosophy "To encourage and promote the development of football through creativity, ownership, discipline & hard work"
Core Values Discipline, Professionalism, Quality, Development, Organisation, Honesty.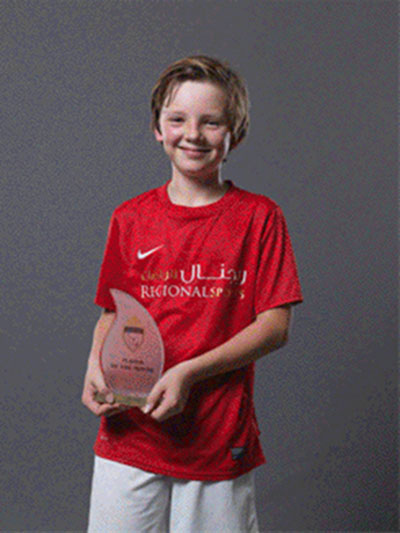 Player development
Our tailor made coaching syllabus is designed by qualified coaches to include the basic principles of passing, dribbling, turning and shooting covered over the term's training sessions, adapted according to age and/or ability. Players train 3 times per week and each session includes a warm up with skills practise/speed, agility & quickness drill, a technical and skill development practise progressing onto a small sided game and finishing with a cool down and debrief. Players are encouraged to perform the skills they've learnt during their training sessions, whilst working on their tactical awareness during match-realistic games.
Player Assessment
Players are assessed at the end of every term and given feedback on their strengths and weaknesses in the form of an individual player report to help their personal development. The coaches can reassess a player's ability at either elite or development level to make sure they're getting the best out of their training sessions.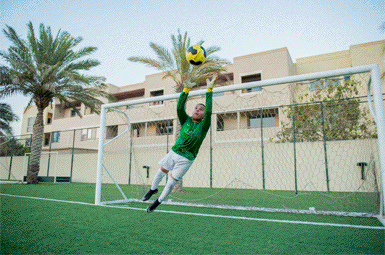 Specialised Goalkeeping Coaching
Specialised goalkeeping sessions tailored towards diving, catching, footwork, positioning and 1 v 1's are included and worked on weekly to improve confidence, technique and goalkeeping principles.
Weekly sessions are offered to our academy keepers, where they can work with our specialised goalkeeping coach and other academy goalies in their specialised field. Training session last an hour and include warm-ups, technique work and drills tailored to different aspects each week. Drills and exercises are dependent upon age, ability and technical skill, which the coach tailors for each goalie.
Our specialised goalkeeping sessions are open for all players to try, even outside our academy. Contact headcoach@regionalsport.ae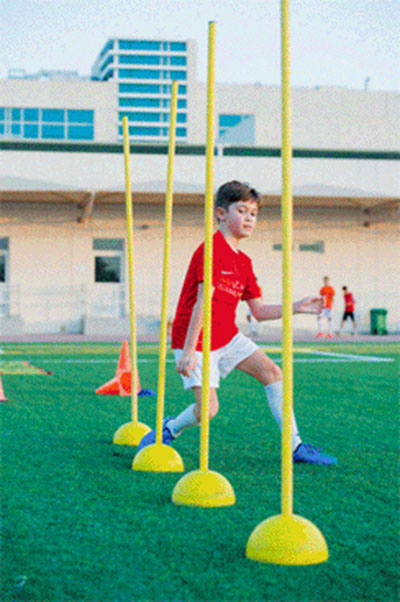 The 4 pillars of Regional Sports Academy
C

Communication decides the quality of our work

O

Organisation, Success comes from a well organised structured environment

D

Discipline is the bridge between our goals and accomplishments

E

Enjoyment is the action of achievement and benefitting from it
Academy Approach
A truly holistic approach flows through Regional Sports bringing all ages, abilities, genders, cultures and nationalities together. We include and celebrate every aspect of the game from the goalkeepers and defenders through to the midfielders and strikers by awarding player of the month and most improved player awards each month. Our well-rounded approach to football brings with it the psychological and social disciplines to create future players who show respect, teamwork and sportsmanship as well as the technical and tactical sides. Our player pathway give opportunities for young footballers playing for fun all the way through the academy to young adults studying or competing in football abroad with scouting and scholarship prospects available.
Trip and Tournaments
Regular football trips combing football, team bonding and fun give Regional Sports Academy that WOW factor. From start to finish Regional Sports organise everything including communication with parents, transport from Abu Dhabi or Dubai, organising fixtures/tournament details and keeping the players throughout the trip. We have visited some great destinations in the UAE and have competed in tournaments and leagues across the UAE, the GCC and aborad. Find out about our international trips here.
Contact Academy
050 610 4466 info@regionalsports.ae